At Stromboli's we have animals who are pets and mean so much to their owners and we have our "wild life", such as garden birds, guinea fowl, peacocks (who are both loved and hated), monkeys (who are a great nuisance), and in the early summer of 2014 a bantum hen and cockerel arrived in the gardens and decided to take up residence. Theyare now the proud parents of a clutch of wee chicks. It is always a contentious issue when wild life becomes a nuisance as there are those who want them to go and those who want them to stay. There are valid arguments for both sides and at times it comes down to a vote among residents before action can be taken.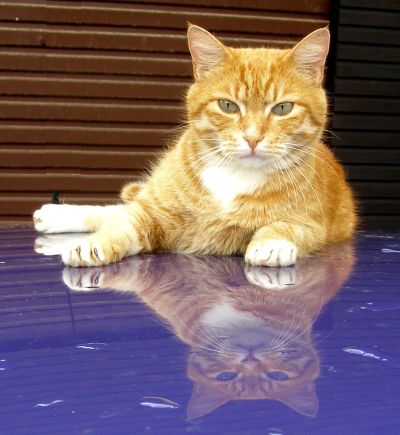 Toby has to have the first spot as he looks to gorgoeous posing on "Sweetpea", the purple Uno. Toby was taken in as a kitten rescued from the road - he moved into the Frailcare for a while but now divides his time between a couple of residents who make sure he is well fed and happy.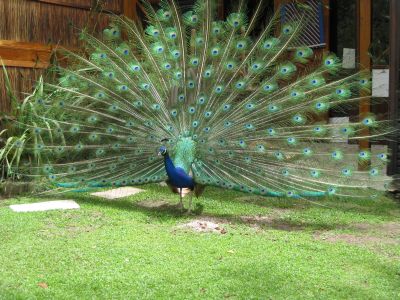 Our male peacock was particularly beautiful last year but has been re-located to Bluehills Bird Farm as a result of a majority vote to this effect.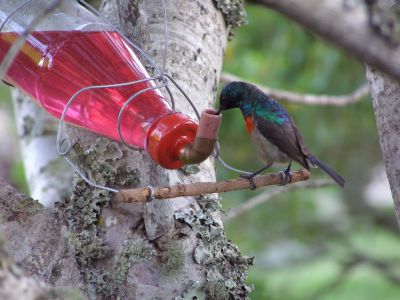 The Stromboli sunbirds are thoroughly spoilt and enjoy their "sunbird pubs" in many of the gardens.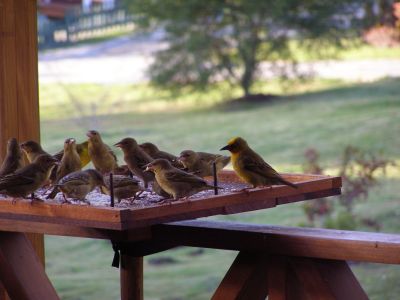 Weaver birds know where to find a hearty meal.

This fat thrush is thoroughly enjoying a feast of macadamian nut waste, which is also popular with the Cape Robin and the Wagtails.